ABOUT GREATER HOUSTON C.O.P.S.
Greater Houston Concerns of Police Survivors (GHCOPS) is a not-for-profit organization that was founded in 1995 by MaryBess Salvaggio (surviving spouse of Officer John Salvaggio, Houston Police Department (11/25/1990) and Rick Hartley, Executive Director of The 100 Club in Houston. At the time of its birth, Greater Houston consisted of 15 counties. Today, Greater Houston C.O.P.S. has a service area of 68 counties that are situated along the Texas Gulf Coast and the Southeastern section of Texas.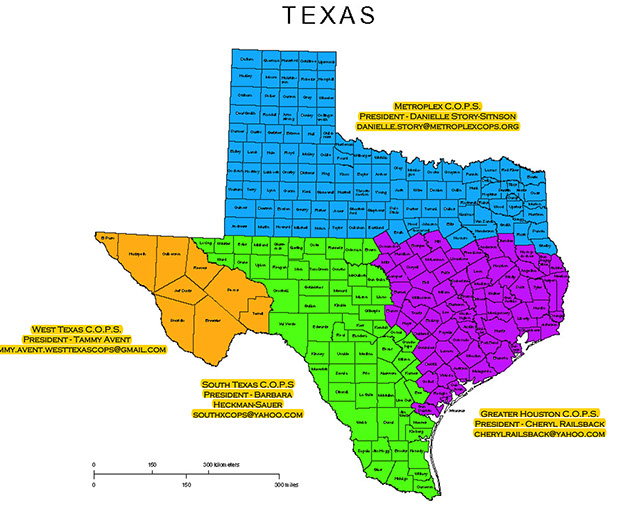 Our membership is 1000+ strong and each time we lose an officer in one of our 68 counties, we gain more unwanted members. None of us want to belong to this organization - there are no membership dues. When our loved ones took their last breath on the face of this earth, he/she paid those dues for us. Through this organization, however, we have made lifelong friends with other survivors who know the pain and heartache of losing an officer in the line of duty.
The heroism and bravery of those officers who have made the ultimate sacrifice in the Greater Houston C.O.P.S. service region must never be forgotten; therefore, we are committed to them to see that their memory and acts of bravery live forever.
COUNTIES WE SERVE
Anderson, Angelina, Aransas, Austin, Bastrop, Bell, Blanco, Bosque, Brazoria, Brazos, Burnet, Burleson, Caldwell, Calhoun, Chambers, Cherokee, Colorado, Comanche, Coryell, Dewitt, Falls, Fayette, Fort Bend, Freestone, Galveston, Goliad, Gonzales, Grimes, Hamilton, Hardin, Hays, Harris, Hill, Houston, Jackson, Jasper, Jefferson, Lampasas, Lavaca, Lee, Leon, Liberty, Limestone, Madison, Matagorda, McLennan, Milam, Mills, Montgomery, Nacogdoches, Newton, Orange, Polk, Refugio, Robertson, Sabine, San Augustine, San Jacinto, San Patricio, Travis, Trinity, Tyler, Victoria, Walker, Waller, Washington, Wharton, Williamson.